It's that time of the year again, when hundreds of Nun's, Priests, Bishops and various other members of the clergy from all over the country will be heading west to Craggy Island. You don't want to miss out on this action so grab your rosary beads, grab your habit and pack your bags to head west for the wildest pilgrimage you'll ever experience.
Yes, you guessed it, TedFest.
What is Tedfest?
TedFest is an annual festival that celebrates the life of 'Father Ted' star and comedian Dermot Morgan. Father Ted was a hugely successful Irish sitcom which focused on three priests living on a remote island off the west of Ireland known as Craggy Island. TedFest takes place every year on the last weekend of February, the festival attracts Fr. Ted fans from all over the world to the remote island of Inis Mor, to pay homage to the legendary TV series.
Where is Tedfest?
Tedfest is held on Inis Mor, the largest of the Aran Islands. Inis Mor is often referred to as Craggy Island, particularly during TedFest.
Why go to Tedfest?
The biggest celebration of the legendary Fr. Ted tv show in the world where hundreds of Fr. Ted fans gather to share their favourite Fr. Ted memory, drink with other Nuns, Priests and Bishops and participate in some of the legendary events such as: The lovely girl's competition, Ted's got talent, The Celibate Olympics, Mecca Bingo and many, many more.
How to get there?
Getting to Craggy Island is very easy, with Ferries and Planes operating daily from the Mainland. Aran Island Ferries operate luxurious ferries from Rossaveal that go directly to Inis Mor. Rossaveal is approximately 20 miles West of Galway city and the ferry journey takes approximately 45minutes. For more information regarding ferry times and bookings click here.
However, if you're late for mass and if time is of the essence, perhaps the plane might be your best bet. Aer Arann operate small 9-seater passenger planes from Inverin, County Galway. The plane will get you from the mainland to the tropical island of Craggy Island in as little as 7 minutes. To reserve your flight to paradise, click here.
Where to stay
When it comes to accommodation, Craggy Island has a something for every member of the clergy. If you're a pilgrim looking to experience Craggy Island in all its misery there's camping. However, if luxury is more your thing, then perhaps Glamping, Bed and Breakfasts or even the hotel might be more of your cup of tea. For a more detailed look at accommodation on Craggy Island, click here.
What to bring
Bring your best friend, your favourite habbit and your favourite set of rosary beads. Everything else from ATM, drink, food and rain gear can be found in the local Spar shop on Craggy Island.
So what are you waiting for? Get your tickets now and cross TedFest off your bucketlist!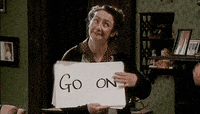 For more information visit www.tedfest.org